Oil: uses, problems and the human factor
Oil is a natural product millions of years old, we humans then process it into different refined components and use it in multiple applications, cooling, lubrication, etc. In its natural and proccessed state, oil can withstand high pressures and harsh conditions, that is, until people start using it for different types of applications, it is then that oil tends to deteriorate considerably fast. Why is it then, that oil is ruined within a few years of human use? This damage can take many forms, some of these are:
Rapid contamination of oil
Moisture in oil
Varnish formation in oil systems
Equipment breakdown caused by pollutants
Large filter costs
Cost of oil change and disposal, plus the environmental cost of this hazardous waste
The answer to our question is quite obvious, it is simply, the mismanagement of oil. By properly managing this useful resource, caring for it and providing the proper environment for it, it is possible to extend the life of oil, save costs and help the environment at the same time. If you have these problems and you would like to manage your oil-based systems in a more efficient way, keep on reading, we can help.
Oil problems are our industry
We are always interested in new challenges relating to oil, its use as a lubricant, heat trensfer(hot oil), insulation in transformers or other platforms. If you have a problem, which you have not yet found the answer to, please let us know so we can tackle the problem together!
Wherever oil is used
Our services are particularly well suited for the energy sector, process industries, mining and high-voltage electricity transmission technology, large electric motors operating environments - in fact anywhere where oil is used in large quantities.
What we offer
We can divide our solutions into roughly 4 groups: Consulting, Maintenance, Oil Diagnostics and Training. These different groups can be offered independently of each other or as group. Depending on your needs you might benefit from a single solution, but in our experience the best benefits are gained when all our solution are used together. Our consulting services help you find problems in your practices, maintenance programs and general skill sets. Our maintenance services provide you with effective actions to take care of your oil-based systems, and our diagnostics services help you know and understand the state of your oil and what is the best way to approach its care. Lastly, at the core of all these services is our know-how, which we are more than willing to share with our customised training programs. In short, if you want to have a complete set of services for your oil needs, we are the way to go. If you want to know more about our solutions go through the top menu or the quick links below.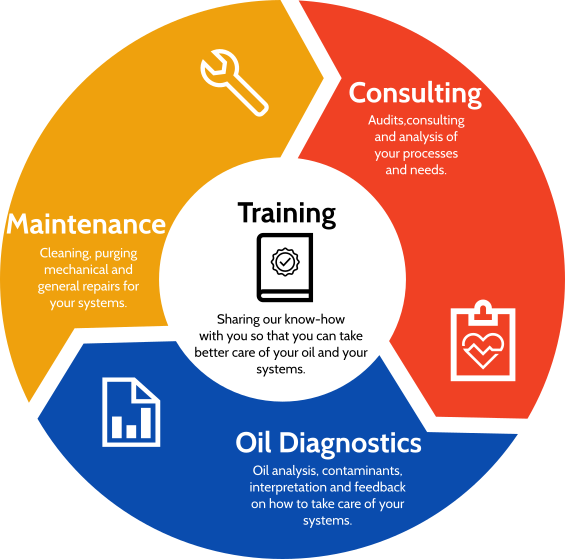 Training
Training in the importance of oil quality, maintenance and care.
Oil Diagnostics
Detailed status reports of you oil and how to take care of it.
Maintenance
Our maintenance services, we can help you care and maintain your systems.
Consulting
We can help you study and improve your maintenance practices and processes.